Hydro Vacuum Cooler for Fruits & Vegetables
What are the advantages of vacuum cooling?

Speed and efficiency are two characteristics of vacuum cooling that cannot be surpassed in any other way, especially when cooling packaged, boxed or palletized products. Assuming that the product is not packaged in a sealed package, the effect of the density of the package, box or stack has little effect on the cooling time. For this reason, the tray product is usually cooled in vacuum before transport. The cooling time is approximately 25 minutes, which ensures a compact delivery schedule.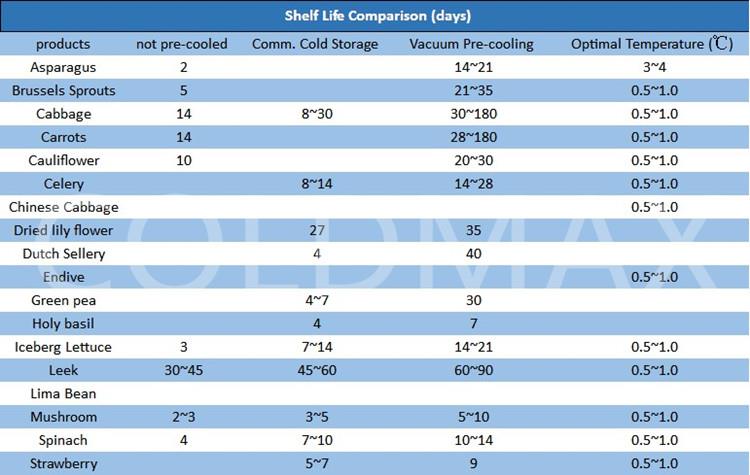 As described above, a small amount of water will be evaporated from the product, usually less than 3%. This number can be reduced by using a hydraulic vacuum device, which is available as standard equipment for our vacuum coolers. In some cases, removing a small amount of water is an advantage to further reducing the spoilage of certain types of fresh produce.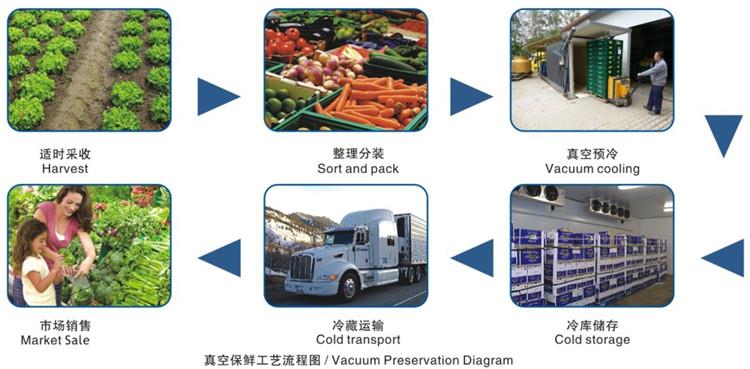 In short, vacuum cooling technology can be helpful in the following aspects:
1. Minimize production losses
2. To improve the efficiency of cleaning work
3. Minimize loss on marketing.
4. Improve consumer use
5. Expand market opportunities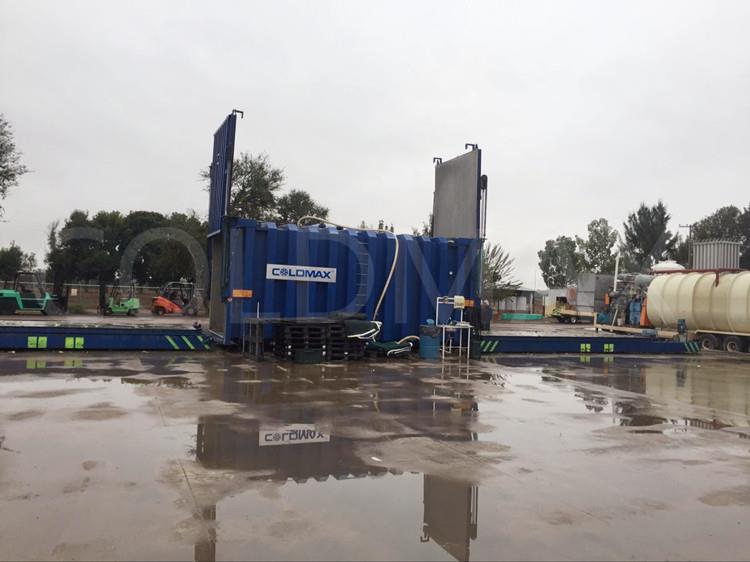 COLDMAX is your reliable partner! Now, send us an inquiry to know more details of vacuum cooling technology! Click here to send an inquiry!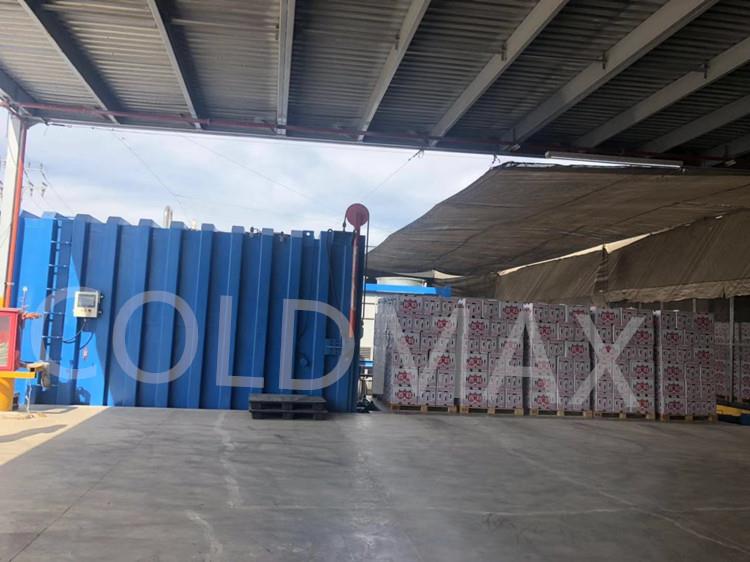 Electrical
1. Electric power panel designed for 415 volt 3 phase 50 cycles.
2. Main circuit breaker for owner supplied incoming power connection.
3. Door interlocked with main circuit breaker.
4. Short circuit protection for branch circuits and electric powered devices.
5. Thermal overload protection for all 3 phase motors.
6. 115vac control transformer.
7. Industrial control power conditioner to protect control devices.
8. 24VDC regulated switching power supply for electronics devices.
9. Surge Protector on incoming power lines.
10. Powerline safety device the monitors over-voltage, undervoltage, phase loss and phase reversal.
Controls
The entire vacuum cooling system is controlled by microprocessor based industrial machine controller. Complete electronic instrumentation is provided (no mechanical pressure switches) for the automatic operation of the system and to provide for the safety of the equipment.
The controller has replaceable plug-in input and output modules with indicator LED lamps for each digital input/output circuit. Wire connections to controller shall be plug-in type terminals. This will allow for accurate and fast parts replacement, minimizing down time.
Automatic cooling cycle termination is controlled by a precision vacuum sensor accurate to 0.05 Torr (mmHg absolute) in the range of 10-0 Torr. Set points are easily adjustable by the operator before and during the cooling cycle.
The control system includes a color touch screen operator interface that will provide the means to run the system, make adjustments, and display variables and diagnostics. When provided with a list of items to be cooled, the touch screen can be programmed with individual presets of each item allowing for operation by product selection. The touch screen has a built-in data acquisition system that stores data on a removable SD card. (Flash memory commonly used in digital cameras.) The touch screen also has a dedicated Ethernet port for remote monitoring of the system on a local network or the internet. (See more information at agrefrigeration.com, Control Systems page.)