Multifunctional Vacuum Cooling Machine
VACUUM COOLING SYSTEM
4 PALLET CAPACITY
Design Basis
1. Cooling capacity for four (4) standard 40" (1.0M) X 48" (1.2M) produce pallets.
2. One (1) row placed with the 48" side in line with chamber length.
3. Alternate loading of owner specified bins, 5 sets stacked 3 high, each bin 70 cm high X 110 cm
X 110 cm, total of 15 bins.
4. Ammonia refrigerant.
5. Electric powered; 415 volts, 3 phase, 50 cycles.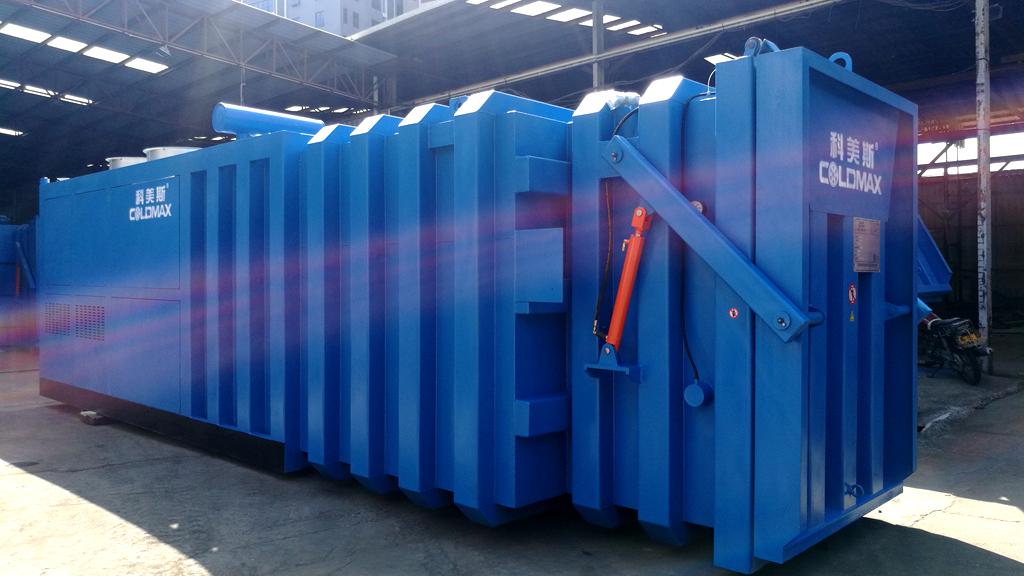 6. Constructed in one part; skid base, piped wired, tested and finish painted; complete ready to operate requiring on site electric power and water supply hook-up.
Vacuum Chamber
1. Rectangular configuration with inside dimensions: 1.4M (55") wide X 2.55M (100") high X 6.00M (236") long.
2. Primarily constructed of painted carbon steel.
3. Floor of the chamber shall be constructed of skid resistant diamond plate. It shall be suitable for forklifts and pallet jack traffic.
4. Internal safety valve for disabling vacuum pressure.
5. One door opening full inside width and height of chamber.
6. Automatic hydraulic operated door actuators, with hydraulic power unit for opening door and combination down solenoid valve and safety flow regulator allow door to close by gravity at a controlled rate.
7. Rubber O-ring type door seal with continuous, one piece construction and rounded corners (no
seams in corners).
8. Door seal is pressed in place in fitted groove. It is easily replaced without fasteners or special tools
9. External fixed dock plate provides transition to the vacuum chamber door; can be removed for
servicing the door seal.
Vacuum System
1. Vacuum Pump designed for minimum vacuum of 1 Torr (mmHg abs).
2. 2 stage vacuum pump system with variable speed provides highest efficiency and fastest pump down speed in the industry.
3. Vacuum pump flow control provides full control of end vacuum during dwell time improved
control of final temperature of all areas of the product.
4. Coalescent type exhaust filters to eliminate 99.9% of oil mist,minimizing oil loss and polution.
5. Built-in check valves to prevent reverse flow and rotation.
6. Initial vacuum oil charge included.
Refrigeration Compressor
1. Refrigerant: R404a
2. One (1) screw type refrigeration compressor.
3. Electronic sensors for suction, discharge and oil pressure (no mechanical pressure or temperature switches).
4. Safety control for low suction, high discharge and low oil pressure.
5. Anti-cycle control to protect compressor motor.
6. Automatic capacity reduction to maximize coolingefficiency for full and less than full loads
7. Initial compressor oil charge included.
Condenser
1. Evaporative Condenser
2. Hot dipped galvanized construction.
3. Minimum design pressure of 300 PSIG.